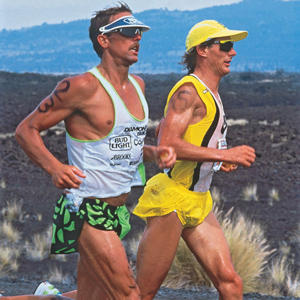 Thirty years ago, two incredible athletes Dave Scott and Mark Allen pushed themselves and each other in an epic sporting rivalry which reached its peak at the 13th Hawaii Bud Light Ironman Triathlon World Championship.
Dave Scott had won the Hawaii Ironman six times since 1980, but for Mark Allen who had won the Nice (France) World Championships six times, one long-elusive victory remained – the Hawaii Ironman.
As fate would have it, on October 14th 1989, in addition to the gathering of top US and international talent, with 46 countries represented in the 1286-strong field, it became a two-man race between Allen and Scott.
For the triathletes who have taken on the challenge of Hawaii's Ironman, (Swim: 3.862 kms, Bike: 180.246 kms, Run: 42.195 kms) the race is a personal milestone and a test of individual endurance. In the course of that interminable day, spent running up and down the barren Kona coast, many courageous men and women face the mental and physical extremes unknown in our regular daily lives.
Mark Allen's preparation for this race had been thorough: "In the past I had done well in races six hours and under. Ironman was a different beast and I had to put in eight and nine hour training days to be really ready for race day."
And ready he was when he took the lead at about 39 kms into the marathon and crossed the finish line in 8:09:15, shattering Dave Scott's three-year-old record by 19 minutes and 22 seconds.
In addition to winning the race, Mark Allen successfully overcame his personal doubts about the Ironman and the mental barriers it had created during his previous attempts. "This race put a lot to rest inside of me. I learned a lot about mental barriers when Dave and I were running together. Ultimately, it wasn't about beating Dave. It was about finally having the best race I could over there"
In the end, he managed to find his power to beat Dave Scott and run the best race he could in Kona.
Mark Allen was no braver than an ordinary man, but he was braver for five minutes longer.